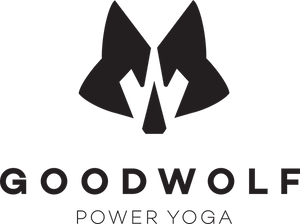 Sweat together
Be on a hunt for greatness
Get true power
GoodWolf Power Yoga is the space for you to commit to yourself first so you can show up and be great for others.
Our classes and Pilates Reformer Sessions are designed and delivered with every BODY in mind. We teach from the Baptiste Power Yoga Methodology with consistency and mastery.
You are invited to join the pack, you belong.
FOR THE STRENGTH OF THE PACK IS IN THE WOLF ... AND THE STRENGTH OF THE WOLF IS IN THE PACK.
goodwolf app now availalbe
power up
weights + cardio + tabata = sweat and fun
Ribbon Cutting 2019
the beginning of something big
Meet Our Staff
Toni 
Shari
Lisa  
Penny 
Jenny 
Julie
Micheal
Robbin
Stacy
Louie
Tiffany
Leah
Jackie
Katherine
Yvette
Taylor
Carlissa
Laura
Kristen
Claudia
Michelle
Michelle
Jessica
Alison
CLASSES & PILATES REFORMER PRICES AND MEMBERSHIP
Thirty Days Unlimited Classes for $49
First Three Reformer Sessions only $33
*This pricing option is reserved for those students who are brand new to GoodWolf Power Yoga or haven't been in a year or more. 
22/per class
25/per reformer session
TEN PACK
149/ten classes
189/ten reformer sessions
CLASS MEMBERSHIPS
 59/month - 5 classes per month. 
 89/month unlimited classes 12-month minimum auto renew commitment. 
 99/ month unlimited classes 6-month minimum auto renew commitment.       
109/month unlimited classes 3-month minimum auto renew commitment. 125/month unlimited classes, month to month, no contract. 
SERVICE MEMBERSHIP
$79 Monthly Unlimited Auto Renew (12 Month Minimum Commitment) Available for full-time students, schoolteachers (K-12), college professor, medical, EMT, active and non-active military, police, and firefighters (VALID ID REQUIRED)
YEARLY UNLIMITED CLASSES
999/per year
PILATES REFORMER PACKAGES
New Client Special first 3 for 33
1 Session 25
5 Sessions 99
10 Sessions 189 (Expire 6 months, after first visit.)
PILATES REFORMER ONLY VIP MEMBERSHIP
4 Sessions Per Month Non-Members 69
8 Sessions Per Month Non-Members 119
12 Sessions Per Month Non-Members 139
(Unused sessions expire.)
Become a GoodWolf VIP in a way that works for you AND save some money! 
179/monthly Unlimited Reformer, unlimited class membership can be added for an additional $29. 
249/month Unlimited Reformer & Classes - no contract, month to month.  
Yearly Unlimited Reformer & Classes
$2148/per year, paid in advance.
VIP Member Perks:
15% off all retail
No Late cancel fees
Free towel service
Discounts on In-House Workshops
Special Pricing on private instruction
Invites to Special Member's Only Events
GOODWOLF FAMILY VIP MEMBERSHIP
ASK US ABOUT - GoodWolf Family Membership for TWO is a great way to encourage family time!
A 12-month minimum auto renew commitment for TWO members. (VALID ID with same address, required). Standard membership rates apply if membership reverts to one member. 
Family membership includes all VIP benefits for both members.
CHILDCARE
12/Drop-in Rate 
Membership can be paused twice a year for a month each. Membership prices are subject to change. If membership is canceled, rate lock is lost and future membership is subject to rate increases.   
For information or to cancel membership contact our staff at info@goodwolfyoga.com, text or call 337-207-1750. 
2024 GOODWOLF YOGA TEACHER TRAINING

200hr 2024 GOODWOLF Yoga Teacher Training
If you do the work, you will be ready to teach upon completion!
Our promise to you is personalized coaching, effective, detailed curriculum and hands-on training with experienced facilitators that will leave you empowered as a teacher, leader, and human being. 
INTERESTED IN THIS EPIC TRAINING? GREAT!
Whether you want to teach yoga or not – this program will be valuable to you as a practitioner, community member, and person seeking connection in the world. 
We guarantee a lot of sweat, support, and laughter.
Included and not limited to: 
• The Art of Teaching a Power Yoga Class
• The Methodology of Power Yoga Inspired directly from Baptiste Power Vinyasa Yoga and the Journey Into Power Sequence.
• Traditional Yoga Philosophy
• The Yoga Sutras
• Anatomy and Physiology Gain a strong foundation that relates to Practicing and Teaching
• Essential Language, Cueing, and Delivery Techniques
• Effective Sequencing
• Healthy Alignment, Modifications, and Adaptations
• The Basics of The Art of Making a Playlist to Complement Practice
• How to Give and Get Feedback
• The Basics and Foundations of Mat Pilates
• How to teach, create, and deliver a Restorative & Yin Yoga Class. 
REQUIREMENTS Included:  • 100% attendance at all sessions*
• Independent study and IN-studio practice.
•
Approximately four hours per week during the training.
• A commitment to growth and participation
• An open mind and willingness to be a student
• Very important: Pre-approval required for any missed dates (outlined below). 
Please note, all hours must be made up with a private facilitator and an additional hourly rate will apply for these sessions. 
BONUS! THE COST OF THIS PROGRAMING INCLUDES: 100 DAYS of UNLIMITED CLASSES
GoodWolf Yoga's 200hr Training Program is an extraordinary opportunity for you to deepen your yoga practice and upgrade all areas of your life. 
Discover for yourself how Baptiste Yoga™ and the Baptiste Methodology™ applies both on and off the mat through yoga asana, meditation, discussion, self inquiry, contribution, community building, assisting and practice teaching. Experience the freedom and effectiveness that emerges from this inspired and embodied practice of Baptiste Yoga™.
This program will begin in February 2024 and take place two days a week for thirteen weeks. Additional times may be added in addition to weekly classes recommended. 
This will be a life changing experience with an upgraded result for your entire life. Join us for a whole lot of sweat, laughter, community, and joy!
YOUR FACILITATOR
GoodWolf Staff - certified yoga instructors.      
200hr Teacher Training is certified through Yoga Alliance. To attain the Yoga Alliance certification - after completion of teacher training all participants will register with Yoga Alliance.
Begins:
February 2024
Saturday 9 hours, Thursday 4 hours 
February 1, 3, 8, 15, 17, 22, 24, 29
March 2, 7, 9, 14, 16, 21
April 4, 6, 11, 13, 18, 20,
Graduation Weekend - April 25, 26  
Holiday breaks included, additional days may be added. Yoga classes taken during the training - will count as educational hours. 
 *Times and dates may change.  
Investment:

The tuition for this program is $3000, 3200 or 3400 to be paid in advance. 
A $500 non refundable deposit is required after submitting the application form and acceptance to hold your space in the program. This non-refundable deposit will be deducted from your final tuition payment.
Payment Options Include:
EARLY BIRD SPECIAL ENROLLMENT: $3000 - Application and Non-Refundable $500 Deposit submitted before December 1, 2023. Payment plan or paid in advance. 
EXTENDED PAYMENT PLAN OPTION 1: $3200 - Application and $500 Non-Refundable deposit due at time of application. Four equal payments of $675 will be auto deducted from a card on file. Tuition to be paid in full on or before February 3, 2024. 
EXTENDED PAYMENT PLAN OPTION 2: $3,400- Application and $500 Non-Refundable deposit due with application. Six equal payments $483 will be auto deducted from a card on file. Tuition to be paid in full on or before February 3, 2024. 
  Investment Includes:
100 days of unlimited classes at GoodWolf Power Yoga during Teacher Training.
Learning to teach yoga from your own personal power and full self expression.
Knowledge in Mat Pilates, Restorative & Yin Yoga, Meditation and more. 
Opportunities for continual training and development as a GoodWolf assistant, GoodWolf teaching apprentice, GoodWolf substitute teacher, and/or GW teacher.
Personalized support with one-on-one mentoring GoodWolf Staff throughout the training. We are here for your growth and learning to create a customized training that will challenge, inspire and provide you with an unmeasurable foundation to achieve your goals for this training and for your life.
Life-changing experience with an upgraded result for your entire life! With a whole lot of sweat, work, community, laughter and joy.
Book: Journey into Power by Baron Baptiste
20 off GoodWolf Apparel and Liforme mats during Training weekends 
20% off GoodWolf Workshops during Training months
*A non-refundable deposit of $500 is due at the time your application is accepted. This deposit will be applied to the total cost of the program. All fees are non-refundable. Credit toward future GoodWolf Yoga Teacher Trainings will be given (including $500 application deposit) for cancellations at least 7 days prior to the start of the program.  A $250 processing fee will be charged for cancellation.
Email info@goodwolfyoga.com or call or text 337-207-1750.