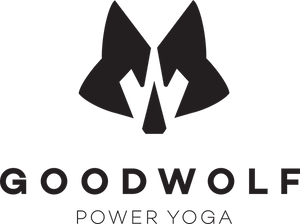 True Power

200 Hour Yoga Teacher Training

Are your ready to discover your True Power both on and off of the mat? Do you want to elevate all areas of your life and learn to lead?

Join Master Baptiste Instructor Alyson Giuffreda and Meditation Trainer Nick Dickinson for this life changing training.

GoodWolf Power Yoga's 200-hour Training Program is an extraordinary opportunity for you to deepen your yoga practice and upgrade all areas of your life.

Discover for yourself how Baptiste Yoga™ and the Baptiste Methodology™ applies both on and off the mat through yoga asana, meditation, discussion, self inquiry, contribution, community building, assisting and practice teaching. Experience the freedom and effectiveness that emerges from this inspired and embodied practice of Baptiste Yoga™.
True power comes from standing in your own truth and walking your own path.
-Elizabeth Gilbert
Weekend Modules Coming Soon
This program offers weekend modules over the course of five months.
Training complies with with Yoga Alliance RYT certification
Learn to deliver a powerful sequence based on Baron Baptiste's "Journey Into Power"
Learn to teach yoga from your own personal power and full self expression
Online anatomy course included (required for 200 hr)
Principles of alignment and modifications for every body
Learn the art of hands-on assisting
Get coached in real time
Practice and learn to teach Meditation
Health and nutrition guidance
Understand the business of yoga
Practice self inquiry
Set goals and create a vision for your life
This will be a life changing experience with an upgraded result for your entire life. Join us for a whole lot of sweat, laughter, community, and joy!
Weekend Module Dates
DATES: Jan 10-12, Feb 7-9, Mar 27-29, Apr 24-26, May 1-3, May 15-17
TIMES: Friday 6pm-10pm, Saturday & Sunday: 8am-6pm.
*Times and dates subject to change
True Power is a 200 hour Yoga Alliance training 100% attendance is mandatory and necessary to complete the training and grant certification.
Investment
The tuition for this program is $3,500
A $500 non refundable deposit is required after submitting the application form and acceptance to hold your space in the program. This deposit amount will be deducted from your final tuition payment.
Payment Options
EARLY BIRD SPECIAL:
$2900 - Non - Refundable deposit of $500 due at time of application, payment in FULL prior to November 10th.
REGULAR ENROLLMENT: $3500 - Non- Refundable deposit of $500 due at time of application, payment in FULL prior to training.
EXTENDED PAYMENT PLAN OPTION 1: $3,050 - Application and $500 Non-Refundable deposit due at time of application. Three equal payments of $850 will be auto deducted from a card on file. Payment in full prior to December 15th.
EXTENDED PAYMENT PLAN OPTION 2: $3,500 - Application and $500 Non-Refundable deposit due with application. Four equal payments $750 will be auto deducted from a card on file.
*A non-refundable deposit of $500 is due at the time your application is accepted. This deposit will be applied to the total cost of the program. All fees are non-refundable. Credit toward future GoodWolf Power Yoga Teacher Trainings will be given (including $500 application deposit) for cancellations at least 7 days prior to the start of the program. A $250 processing fee will be charged for cancellation.
Your Investment Includes Perks!
Unlimited yoga classes at GoodWolf Power Yoga during Teacher Training months.
After the training you may have an opportunities for continual training and development as a GoodWolf assistant, GoodWolf teaching apprentice, GoodWolf substitute teacher, and/or GoodWolf teacher.
Personalized support with one-on-one mentoring from Alyson Giuffreda and GoodWolf Staff throughout the training. We are here for your growth and learning to create a customized training that will challenge, inspire and provide you with an unmessable foundation to achieve your goals for this training and for your life.
Book: Journey into Power by Baron Baptiste
25% off GoodWolf Apparel during Training weekends
25% off GoodWolf Workshops during Training months
Email info@goodwolfyoga.com or speak directly to Toni for more information.
Who We Are For You
We are dedicated to empowering you to live your best life, right here, right now, in this moment with vitality, power, and freedom.
We look forward to getting to know you and creating a community of connection, support, and SWEAT. The pack needs you. Come roll out your mat, get sweaty, and be on a hunt for greatness.
Miracles are happening daily at Good Wolf Power Yoga!